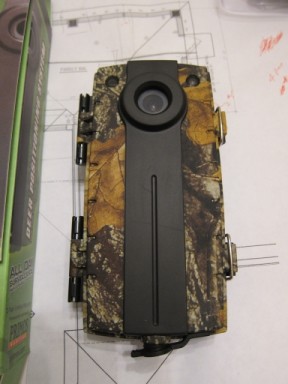 I have to say that I really get a lot of use and enjoyment out of my trail cameras. I run them year around in one state or another and every year collect some really special pictures.
Since my back ground is of a technical nature, I have always believed more information is better than less. Trail cameras provide a lot of valuable intel that you can incorporate into your hunting. With the advent of the new "Time Lapse" feature and being incorporated into the latest trail cameras, a whole host of new intel can be gained.
I recently add a new Camera to my stable of Trail Cameras…..the Primos DPS Time Lapse Camera!
This is a really neat little unit and can provide information that a conventional motion triggered camera just cannot do.
On one of my leases there is a historic turkey roost where the birds roost every night. This is a spot in the corner of a pasture that borders a creek swamp and I have never been there and not seen turkeys roosting there!
I have been running a Bushnell Trail camera there and decided to move the DPS unit there as well for a test run. I discovered that the birds are coming from a different direction to enter the pasture and are not using that roost right now. Since this camera is set to take a photo every 5 seconds, I get a clear sense of where the game came from, when, how long they were in the area and which direction they left in. The beauty of the camera is you collect data even when the game is too far away to trigger a standard motion sensing camera.
I found the photo's to be pretty clear depending on the lighting. I would say the photo quality is average to slightly above.
The camera was easy to program and set-up. It requires (8) AA batteries for power.
One of the best aspects of this camera is the PRICE! You can buy (4) of these for what you'd pay for a plot watcher!
One negative is that this is a daylight camera only and does not take photo's at night.
You can set this camera to take a picture every 5 or 10 seconds. I prefer the 5 second setting myself. A lot can happen in 10 seconds and an animal could walk past the camera without getting his picture made. You can always delete pictures but a missed opportunity is lost for ever!
You will need a pretty large card to store all of these pictures. The unit will handle up to a 32gb card and you definitely want to go with the 32gb. Otherwise, you will be servicing the camera every couple days if you use something like an 8gb. I am using the "Sandisk ULTRA" but the "Extreme" or "Standard" will do a good job also. The Kingston "Ultimare X" or "Standard" cards work well with the DPS camera also. As far as class of card….class 10 is great but I have used class 4 also and cannot tell any difference. For individual photo's, the class is probably not a factor.
The camera comes with software to watch each days time lapse. You can watch a whole days activities in 3 minutes or less! The software is fairly intuitive and you'll get the hang of it without to much trouble. Set up was the only place I had any issues with the software. There was not much instruction on installation.
As far as using the photo's you collect…..That's a whole other issue. The photo's use an extension that is not supported by many photo editing software's. I was able to use a free photo editor called "Irfanview" to edit the photo's but you should make a duplicate copy of them before you open them with Irfanview as it will change the file extension. Once that happens, the DPS program software can't read it anymore.
I was able to make the videos below from the time lapse collection by doing a simple screen capture with "Corel VideoStudio Pro x5", a video editing package you can get for about $49. The DPS software has a share button but I could not get that to really do anything and there were no instructions that I found on how it works.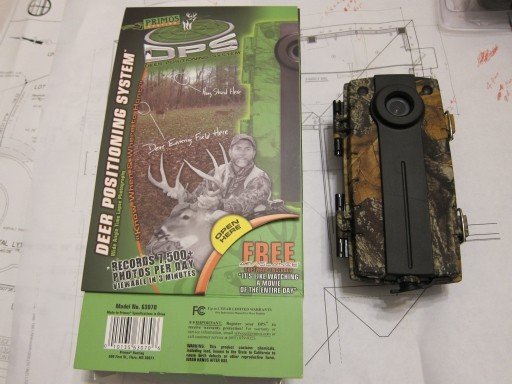 Here is a hot link to the technical data on the Primos DPS Camera. This is a link to Amazon. In the interest of transparency I do receive a minuscule commission if you decided to make a purchase. However, if you can find a better price somewhere else, by all means, save some money! You may even want to consider a used unit on eBay, just be sure it is the latest version as earlier units had problems using certain cards.
Here are a few videos made from the DPS time lapse photo's….
Best of Hunts,
Larry Stephens
.
Q – How long does a turkey beard get?
A – The longest recorded turkey beard measured 18″ thought the average is just over 9″. The beard length will vary depending on a few different factors such as diet and terrain. Turkeys that spend most of their time around pastures or open grass lands tend to have longer beards as thicker terrain or areas with a lot of rock, etc. tend to wear the ends of the beard off quicker. Bristles of the beard are also broken off from the tom stepping on it as he feeds. Also, Northern birds or birds in areas with high snowfalls will often lose the ends of their beards when ice builds up on them and they break off. The beard typically grows 3-5 inches a year throughout the life span of the gobbler.
Q- How many beards can a turkey have?
A – Generally, most turkeys will only have one beard. However, a small percentage can grow multiple individual beards. They will all be aligned vertically with a small separation between each beard. Typically, There will be one primary, normal sized beard with multiple smaller, thinner beards above. These extra beards will usually vary from a few hairs to approximately 1/4″ in diameter.  I have personally harvested (2) toms with triple beards.  Toms with more than 6-7 beards have been reported but are pretty rare.
Q – Can you tell the age of a turkey by its beard?
A – The turkey's beard can be used as a general rule of thumb for aging a turkey though the spur is probably more accurate. A young male turkey that is born in the spring will be almost a year old by the time hunting season arrives the following spring. He is referred to as a "jake" and his beard length will vary from barely visible to a max of about 4-5 inches long. By the next spring he will be a 2 year old and sport a beard up to 9-10″. Beards over 10″ are typically found on birds of 3 years or older. Most toms will not reach a length longer than 11-11 1/2″. The length is measured to the tip of the longest bristle.
Q – Can Hens develop beards?
A – Short answer, Yes! A certain percentage of the hens in any population will develop beards. The percentage varies but can be up to 10-20%. I have personally taken three hens with beards that I can remember. However, that is over almost 3 decades of hunting turkeys. Typically, a hens beard will be short and whispy compared to a gobblers. They are seldom more than a 1/4″ in diameter and usually about 3-4″ in length. Two of the Hen I harvested with beards had pretty large ones that were about 7 1/2″ in length.
Q – What is Beard Rot?
A – There is another factor that can effect the length of a turkey's beard. It is known as Beard Rot and is caused by malnutrition. Many believe that this condition is a result of a parasite or fungus but this is not the case.  Beard Rot is an interruption in Melanin production which gives the Beard it's color and strength. This occurs when a turkey is stressed due to a poor diet. A turkey suffering from a Melanin deficiency will develop a light colored band around his beard. Some turkeys may have a completely blond coloration to the beard under severe cases. When a Turkey goes through a brief period of reduced melanin production and a discolored band develops on the bead it produces a weak area. When the turkey begins producing melanin again, the beard will return to its healthy black color. As the beard continuous to grow, eventually the fatigue from the flexing will break the beard off at this point, leaving a truncated end with a blond to reddish coloration to it at the tip. This gives the tips of the bristles a rusty or rotted appearance, hence the name, Beard Rot.
Q – Does a Turkey's Beard serve any purpose?
A – A lot is not known about what purpose the turkey's beard serves. However, from my own observations, I believe the beard is a visual cue, an identifying part of the turkey that allows other turkeys to recognise him as a male from long distance. If you have ever watched a gobbler strutting in a field or other place where he can be seen from a long distance, his beard projects out and is very much more pronounced then when he is feeding or milling around. Every so often a strutting bird will break out of strut and stretch out tall and make his beard stick straight out. He will almost always be looking at or for another turkey and I believe this is a signal just like the turkey's fan and increased size when he blows up into a strut. Remember, turkeys have incredible eye sight and they put it to good use in just this way.