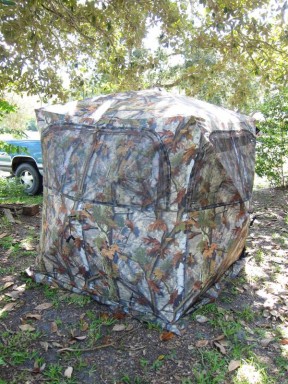 I have been looking for a new turkey hunting blind for next season and after a lot of research and consideration I have decided to go with Barronett Blinds-Grounder 250 blind. It is a 5 hub design and the setup and take down in the blink of an eye.
I also use the blind for filming archery hog hunts out of but when it arrived I realized the window sills were right about arrow rest height for me when I am kneeling. I am about 5'6″ so for a taller hunters this is most likely not be an issue.
Of course, if you are going to sit in a blind for any amount of time and be comfortable, you need a chair or stool of some sort. That started me looking for a light weight chair with a back support and I decided on the "Alps Outdoors – Rhino Stool". I guess they refer to it as a stool as it only has 3 legs but I would call it a chair. It only weighs 5lbs.
Compared to the coil up blind I have been using the 5 hub design is a snap to set up. You just pull on the tag at the center of each panel until it pops out into place. Pop up the roof and your ready to hunt! You can set the blind up in a matter of a few seconds
The blind has one large window on each side with a center vertical zipper that will allow you to just open the left or right half of each window.
One of the major pluses of this blind is its light weight! At 14lbs. it is one of the lightest full size 5 hub blinds you can get. That is important when you consider all the other gear you will also be lugging in.
The blind has tons of room and measures 59″ square by 67″ tall!
Five-hub design is easy to set up and take down
Replaceable shoot through mesh camo windows  for archery
Ground skirt that contains scent and drafts
Includes backpack for easy carrying
BloodTrail camo pattern
I was impressed with the construction and compares to other blinds that cost considerably more.
If you want more information on this blinds or are looking to purchase one, just click on the Amazon link below.
Best of Hunts,
Larry S.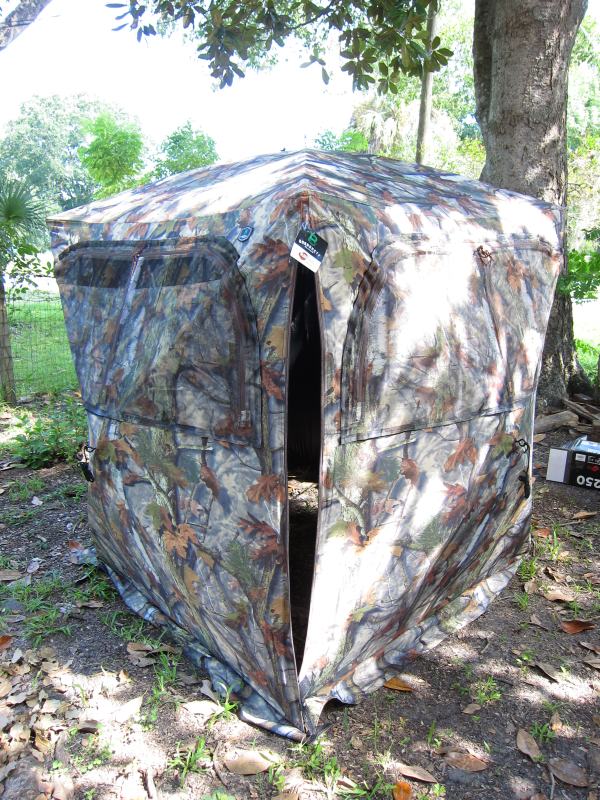 var _gaq = _gaq || []; _gaq.push(['_setAccount', 'UA-36481738-1']); _gaq.push(['_trackPageview']);
(function() { var ga = document.createElement('script'); ga.type = 'text/javascript'; ga.async = true; ga.src = ('https:' == document.location.protocol ? 'https://ssl' : 'http://www') + '.google-analytics.com/ga.js'; var s = document.getElementsByTagName('script')[0]; s.parentNode.insertBefore(ga, s); })();