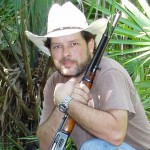 Larry is an avid sportsman, having spent over 35 years honing his outdoors skills. He has been published in several national hunting magazines      including; North American Whitetail, Florida Sportsman and Bowhunter magazine, relating to his outdoor experiences and trophy harvests.
Also, some of Larry's contributations have been included in "SPORTSMAN'S BEST – KAYAK FISHING", a book dedicated to kayak fishing .
Larry has hunted in Many different states for a variety of Big Game from Idaho to Illinois to Florida and many in between. Larry has harvested many trophy deer including the largest Non-Typical, Free range, Northeastern Whitetail in 2005 to be entered in the SCI record book and received a Crystal-Major Award for this accomplishment.
Other awards include both Gold & Bronze medallions for western, northeastern and southern whitetail categories in SCI and is a Certified Measurer for this Record keeping Organization.
A number of his harvests also qualify for the Pope & Young record book.
Larry has also harvested several multi-bearded gobblers that qualify for the SCI record book in the non-typical category. The largest actually qualify's for the #2 position in this category. Many of his other typical turkey harvests qualify for both Osceola and Eastern, typical category.
Larry is an accomplished Building Designer and taxidermist He lives and breathes hunting and the outdoors and enjoys sharing his experiences with other avid sportsman.
Larry also owner of Bull Creek Outfitters a small operation that offers guided turkey hunts on a limited bases to approximately a half dozen hunters per year. Larry strives to provide a personalized hunting experience tailored to the hunters particular needs. If you are interested in a guided Osceola turkey hunt with Larry you can get more information at www.guidedturkeyhunting.com .
If you would like to find out more about Larry  and his hunting and fishing experience, you can also visit his personal blogs at:
www.trophy-hunting.blogspot.com
www.kayakanglingbigfish.blogspot.com
If you think you would be interested in sharing a in hunt with Larry or maybe you just have some questions related to hunting or a particular problem you need help with, give him a call or email. Larry would be glad to speak with you and there is nothing he enjoys more than talking about the subject of hunting and fishing